Web Design Service "eee Web Lab"- speed on Japanese Quality but Local Price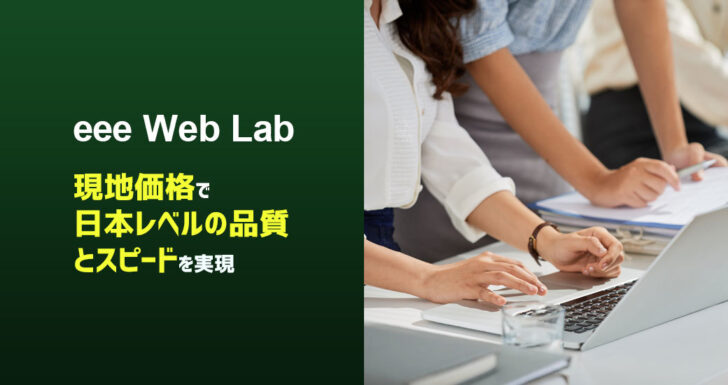 Japanese IT company, eeevo malaysia Sdn. Bhd (Head Office: Kuala Lumpur, Malaysia) launches web design service, "eee Web lab", starting from 1st January 2020.  We deliver "Speed on Japanese Quality but  Local price".

"eee Web Lab" team are Japanese engineers and Malaysian web designers.  Our 8years experienced specialist offers you various solutions including landing page, multilingual website and SEO tactics.


Why eee Web Lab was started?
Number of Japanese companies that expand business in Southeast Asia have increased, most of them are small-medium size companies.  They use their Facebook business page as a website for local users to directly access their information.

In the above case, many companies find it difficult for making a website;
・No idea how to make a website without any knowledge
・Asked local web design company for designing a website but things never work out as planned
To solve the above issues, "eee Web Lab" has started.  If you contact our Japanese engineer, he will sort these issues out and assist you to run your website in Japanese.


Rate plan – two options
eee Web Lab offers you following rate plan;
※Below plan is the basic rate.  Additional cost may be charged based on your requirement.
①Basic plan : from 90,000 yen
Basic plan when a template is used
②Customized plan: from 180,000 yen
Customize web design based on your requirement
Website management services
A website can help you to boost sales.  eeevo malaysia Sdn. Bhd, with 8 years of digital marketing experience in Southeast Asia, assists you to manage your website. 
Webpage advertisement, SEO solutions, Update an article, SNS management – a different kind of solution will be offered to you!
Designing and Building Multi-language Website
Multi-language website (English, Japanese, Chinese, Malay Thai, etc) can be designed.
It may be challenging to set up foreign language SEO.  SEO strategy such as marketing approach and key word search in different languages are ready for you to build a multi-language website.  
*Additional cost will be charged for translation and SEO