JBAA Exam offered by JMBEC was conducted at UiTM, 99 students took the exam
On July 20, 2023, JBAA Exam, offered by JM Business Ethics Consultancy Sdn. Bhd. (alias: JMBEC), under our eeevo group, was conducted at Universiti Teknologi Mara Shah Alam (alias: UiTM). A total of 99 UiTM students and lecturers took the exam to deepen their understanding of Japanese business manners and etiquette.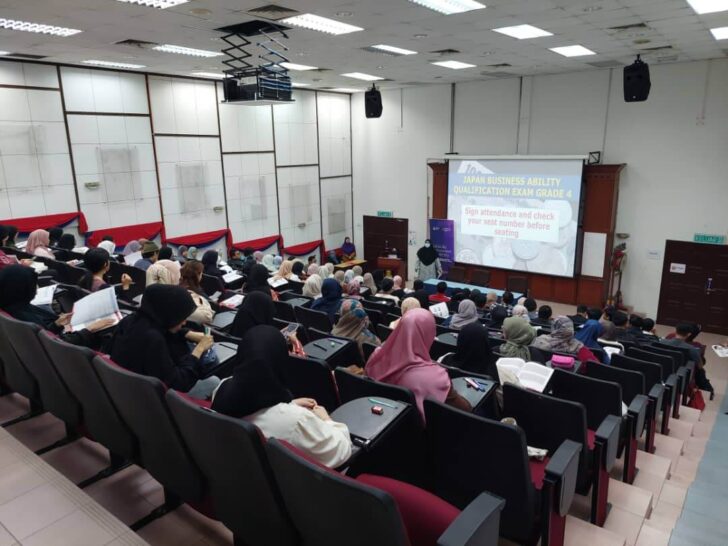 ◇ Conducting the JBAA Exam
The JBAA Exam started at 2:30 PM on July 20, 2023, at the Academy of Language Studies at UiTM Shah Alam. The exam lasted for one hour and consisted of a total of 40 multiple-choice questions. Although one student was absent on the day of the exam, a total of 99 students and lecturers gathered in the auditorium and took the exam all together.
Before the exam started, some students said that they felt anxious and worried that they could pass. However, once the exam began, they concentrated to solve the questions, progressing to answer one by one. Several students could complete all the answers before the scheduled end time, making all their studies pay off.
◇ JMBEC Director, Isrami, Attends the Closing Ceremony
On the day of the exam, Isrami bin Ismail, the director of JMBEC, also visited the examination venue at UiTM. After the exam, a closing ceremony was held, during which the Dean of UiTM delivered a speech about the significance of the exam to the students. Isrami and Alvin Ng Chee Hock, another director of JMBEC, also took to the stage, and UiTM presented them with tokens of gratitude, in appreciation for the complimentary offering of the JBAA Exam by JMBEC.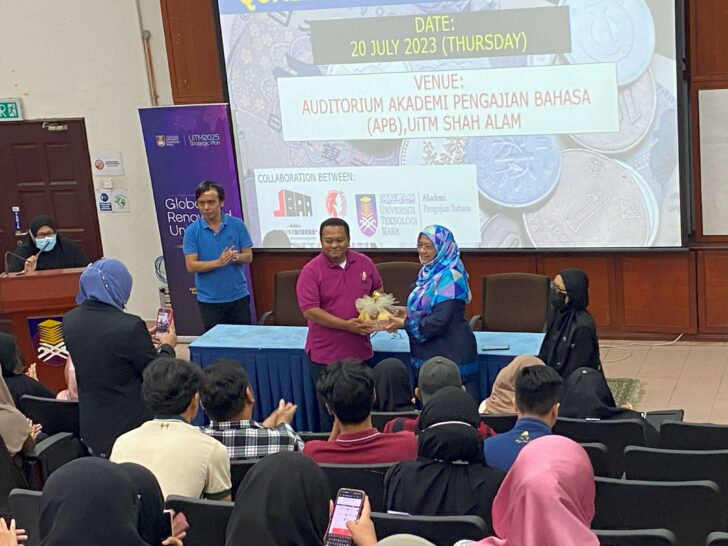 ◇JBAA Exam, the Certification Exam to Assess Understanding of Japanese Business Manners and Etiquette
The JBAA Exam is a certification exam that assesses the understanding of Japanese business manners and business etiquette. The purpose of the JBAA is to help people learn business manners, ethics, and values that are deeply rooted in Japanese society, so that they can communicate smoothly and conduct business efficiently.  It has been introduced in universities, language schools, and companies around Malaysia, and not only at UiTM, it will be conducted but also at other universities such as UKM and MJIIT.
<About JBAA>