JMBEC Exhibited at Japan Festival held at UKM, Introducing JBAA to Students
JM Business Ethics Consultancy Sdn. Bhd." (alias: JMBEC), under eeevo group, exhibited a booth at the Japan Festival held on July 4, 2023, at Universiti Kebangsaan Malaysia (alias: UKM).
Alvin Ng Chee Hock ("Alvin"), Director of JMBEC, took the stage to introduce JBAA to the students who participated in the event.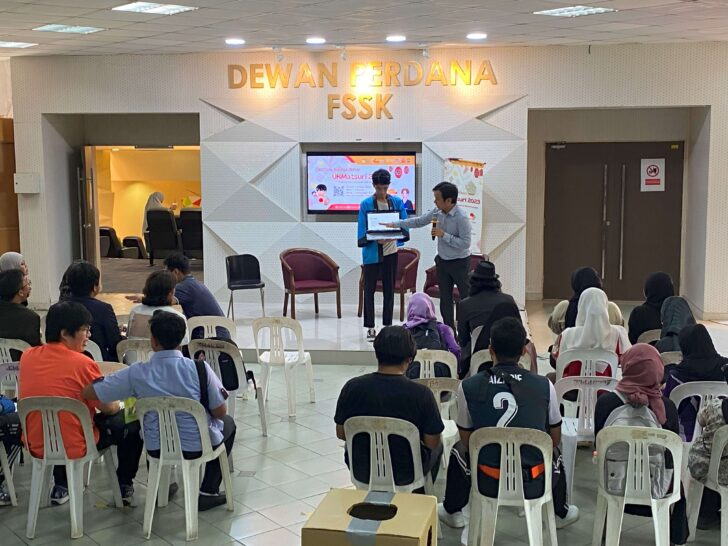 ◇Exhibiting our booth at the Japan Festival
The Japan Festival held at UKM started at around 10:00 a.m. on July 4, 2023. JMBEC had a booth at the front of the stage to introduce JBAA. Our booth was visited by about 20 students who were interested in Japanese business manners and Japanese culture. The students who visited our booth said that they would like to learn Japanese manners and would like to visit Japan someday, and they were very positive about taking the JBAA exam scheduled to be held at UKM.
◇Alvin, Director of JMBEC,  presented on the stage
From around 1:00 p.m., Alvin, Director of JMBEC, went up on the stage and gave a presentation about JBAA to students. The students who had gathered in the hall paid close attention to the presentation and listened to it intently.
After the introduction of JBAA, Alvin gave 30 JBAA textbooks to UKM. JBAA practice exam is going to be conducted at UKM in nearly future, and the textbooks will be distributed to students who apply for the exam for free.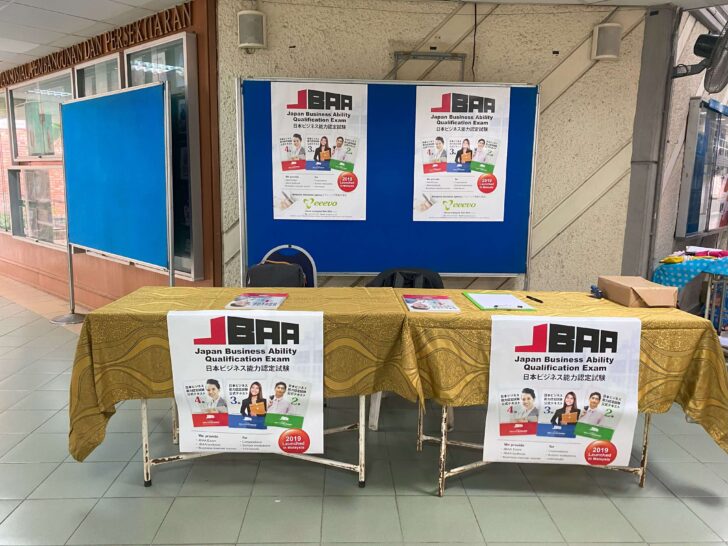 ◇JBAA, the Certification Exam to Assess Understanding of Japanese Business Manners and Etiquette
The JBAA is a certification exam that assesses the understanding of Japanese business manners and business etiquette. The purpose of the JBAA is to help people learn business manners, ethics, and values that are deeply rooted in Japanese society, so that they can communicate smoothly and conduct business efficiently.  It has been introduced in universities, language schools, and companies around Malaysia and will be implemented at UKM as well.
<About JBAA>