eeevo group to Launch Overseas Exhibition Support Services in South East Asia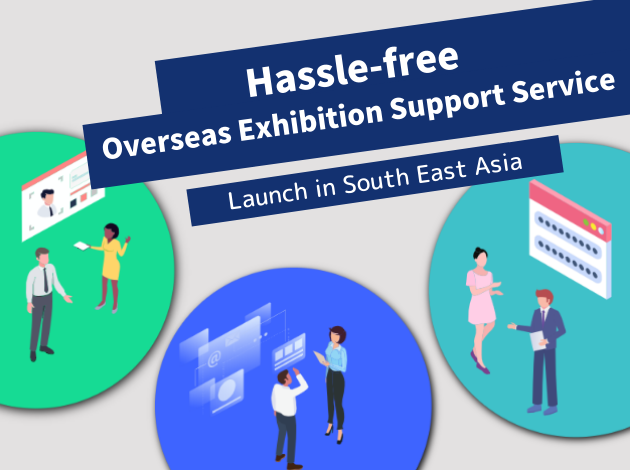 Japanese IT company, eeevo group (Head Office: Kuala Lumpur, Malaysia) launches overseas exhibition support services in South East Asia for Japanese companies looking to expand internationally pass over Japan.
Service will be available in Singapore, Thailand, Malaysia, Indonesia, Vietnam, Philippine
" Are you looking for English-speaking staff?"
" Do you need advice about which exhibition is suitable for your needs?
" Are you struggling with preparation for the exhibition?
" Do you want to save costs?"
Exhibition selection that meets your needs, negotiation with organizers and vendors, preparation of exhibition (panels and brochures), booth setup, dealing with exhibition visitors, interpreters / promotional models arrangement – Hassle-free support services offer you an end-to-end exhibition experience in a cost-effective manner.
Why we start "Hassle-Free Exhibition Support Service
eeevo group started overseas operations eight years ago with a global presence in Malaysia, Japan, and Thailand.  We have mainly provided Digital marketing services in South East Asia.
Recently we have received a lot of inquiries about the exhibition from Japanese companies to seek growth in overseas markets.  On the back of this, we start "Hassle-free Exhibition Support Services" as our new service.
The Advantage of using our support services
The overseas exhibition is the first step to enter the global market, however, you need to find ways to overcome a language barrier, culture differences, and costs.
eeevo group provides hassle-free support services to you.  Our experienced staff assists you in exhibition selection, preparation and support during the exhibition.  We provide you various supports utilizing our solid marketing experience and networking.
Our Japanese staff is here to help.  The hassle-free support services ensure to deliver end-to-end exhibition experience and the best solutions for cost reductions.
※Cost reduction is approximately 400,000 yen (if you select standard plan. Please see below)
"Hassle-Free Overseas Exhibition Support Services" provide 3 types of plan
You can choose one of the following 3 types of plan;
①Lite (100,000 yen) Exhibition preparation
②Standard (300,000 yen) from exhibition preparation to support during the exhibition
③Premium (500,000 yen) addition to the above, marketing service is included
If you choose "group exhibition" which deals with 2 companies in only one booth, you can enjoy further cost reductions.
※Cost reduction is approximately 600,000 yen( If you deal with more than 2 companies in one booth)
"Hassle-Free Overseas Exhibition Support Services" offer;
・Select the best exhibition that meets your requirement: propose the best exhibition that meets your commercial products
・The procedures required for the exhibition:negotiations with local organizers and vendors
・Translation services/Design/printing arrangement:If you choose the standard plan, one panel and 2 types of hand-out including flyers and brochures  (300 each)
・Interpreters/promotional models arrangement
・Booth set-up/ Installation and Dismantling Services
・Exhibition support by Japanese staff:If you send one staff from Japan to the exhibition, our Japanese staff is working with him/her at the stand.
・Locally marketing services:Press release submission to local media/English LP creation/article posting on web-media
※Based on the plan what you choose
◆eeevo group
CEO:Noritaka Araki
Business:Advertising, media, system development, JBAA corporate training
Official website:https://eeevo.asia/
♦︎Malaysia Office: eeevo next Sdn Bhd / eeevo malaysia Sdn Bhd
Address:Unit B-9-2, Level 9, Block B, Northpoint Offices, Mid Valley City, 59200 Kuala Lumpur, Malaysia
♦︎Thailand Office: eeevo (Thailand) Co., Ltd.
Address:24 Prime building 12th Floor Unit A, Sukhumvit 21(Asoke) Road, Klongtoey-Nua, Wattana, Bangkok 10110 Thailand
♦︎Japan Office: eeevo japan Co., Ltd
Kogyo Bldg 4F, 43 Kanda Higashimatsushitacho, Chiyoda-ku, Tokyo, Japan
◆Please feel free contact us anytime at
info@eeevo.asia / +60 (3) 2775 2467   Ms. Nagata/Ms.Keikei