WakuWaku, a Job search platform started operation in Malaysia- Linkage with Job fair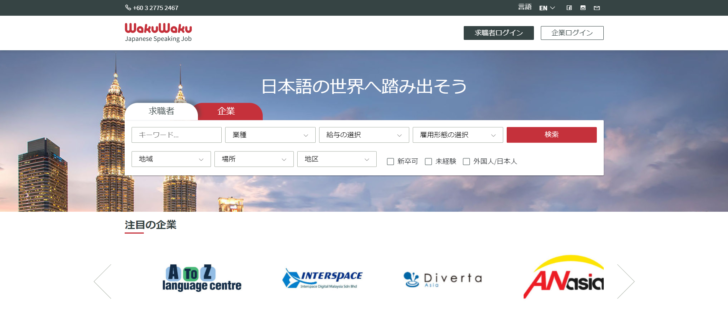 "WakuWaku", is the largest Japanese Speaker job search platform in Thailand and has also started in Malaysia. WakuWaku service that has been operated by TalentEx Group, a Japanese HR tech company based in Bangkok since 2015. In 2018, we expand into Russia and East Europe. This time, we partnered with eeevo Group, a Japanese IT company based in Malaysia, and started operations in Malaysia, which a neighboring country of Thailand, as the first step of globalization.
In conjunction with the WakuWaku platform, the WakuWaku Job Fair will be held on September 15, 2019 in Klang Valley.
About WakuWaku Platform
In Thailand, it operates in three languages: Japanese, Thai, and English. Japanese learners and speakers who are known as "Japanese Speaker Candidates" and Japanese companies are highly active using this largest platform for hire and looking for job.
(Used record in Thailand: Toyota, Honda, JAL, DENSO, Panasonic, HIS and more than 1,000 companies)
In Malaysia, we will operate in Japanese and English, aiming for a service that can be widely used not only by Japanese Speaker Job seeker / Japanese companies but also by Malaysian job seekers / local companies.
Job seekers can easily register personal information such as work history in the system by uploading resumes, and search for job information.
In addition to posting job information, companies can search for resumes in the system and contact job seekers through the system directly.
WakuWaku Malaysia URL:https://my.wakuwaku.world/ja
About WakuWaku Job Fair Malaysia
In conjunction with the WakuWaku database, the first WakuWaku Job Fair will be held on September 15, 2019 in Malaysia to provide a place for recruiters and job seekers to interact directly.
Besides company booths targeting Malaysians and Japanese job seekers, there also a special corner "Study JAPAN" related to Japanese language schools and skills as well.
Exhibitors companies are not only companies operating in Malaysia and recruitment agency, also language school, career development related companies, etc.
There are about 30 exhibitors, and estimating 300 ~ 400 visitors.
Time & Date: 15th September 2019(Sun)10am~5pm
Venue:Taylor's University Lakeside Campus
( 1, Jalan Taylors, 47500 Subang Jaya, Selangor)
※FREE Entrance  ※Looking for exhibitors
WakuWaku Job Fair Official Website:https://wakuwakujobfair.com.my/jp-for-company
Exhibiting companies (part)
Panasonic Appliances Air-Conditioning Malaysia Sdn. Bhd.
Honda Malaysia Sdn Bhd
Yamato Transport (M) Sdn. Bhd.
Hino Motors Sales (Malaysia) Sdn Bhd
SECOM (MALAYSIA) SDN. BHD.
Epson Precision Malaysia Sdn Bhd
TAIYO YUDEN CO., LTD.
Nitto Denko Material (Malaysia) Sdn Bhd
Sato Auto-ID Malaysia Sdn Bhd
TASKAL RESOURCES SDN. BHD.
Fuji Furukawa E & C (Malaysia) Sdn Bhd
Lintec Kuala Lumpur Sdn. Bhd.
Diverta Asia Sdn Bhd
Interspace Digital Malaysia Sdn. Bhd.
CLASSIC JAPAN (M) SDN. BHD.
HIRO FOOD PACKAGES MANUFACTURING SDN BHD
Koshidaka Malaysia Sdn Bhd
A to Z Language Centre
Dynamic Vision Resources Sdn Bhd
Agensi Pekerjaan AN Asia Sdn Bhd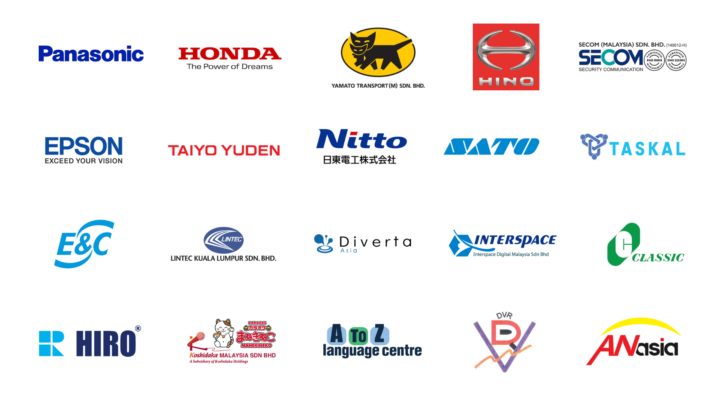 Held concurrently with Japanese Language event
As a joint event, the 4th Japanese Business Presentation Contest organized by the Japanese Language School A to Z Language Center will be held. In this event, will be gathers Japanese speaker and Malaysians who are interested in Japan, therefore, expect increase the chances of encountering Japanese speaker and pro-Japanese job seekers.
♦︎eeevo Group company profile
Address:Unit B-9-2, Level 9, Block B, Northpoint Offices, Mid Valley City, 59200 Kuala Lumpur
Representative:Noritaka Araki
Nature of Business:Media Business, Digital Marketing, System Development, JBAA company training
Website:https://eeevo.asia/
◆TalentEx (Thailand) Co., Ltd. company profile
Address:18 Ratchadapisek Road, Klongtoey Sub-District, Klongtoey District, Bangkok 10110
Representative:Koshi Youjirou
Nature of Business:Managing Recruitment Media, HR Software Business
Website:https://www.talentex.co/
◆Inquiry
eeevo malaysia Sdn Bhd / eeevo next Sdn Bhd
info@eeevo.asia / +60 (3) 2775 2467  Person in charge:Araki (Mr.), Kei Kei (Ms.)