You can easily update the information on your website yourself!?
We recently introduced a case study about how we made updating easier and faster, and we have received some feedback about it.
Click here to view the previous case study

Today, we would like to introduce you to some of the specific measures we have taken to reduce the number of man-hours involved.
Use website management tools that can be updated by people who are not web-savvy.
You may have the impression that you need to be an expert to update your website, but there is a management tool that makes it easy for anyone to update their website.
You may have heard of a tool called WordPress, and we use this website creation tool (blog tool) when we create a website for our clients.
This management tool makes it easy for people who are not familiar with the company's web presence to update the website as if it were a blog.
However, as WordPress is originally a blog updating tool, the posting screen only has an input space for already determined article content.
Updating articles in this area while being aware of the layout can be a bit of a pain for those who are not web-savvy.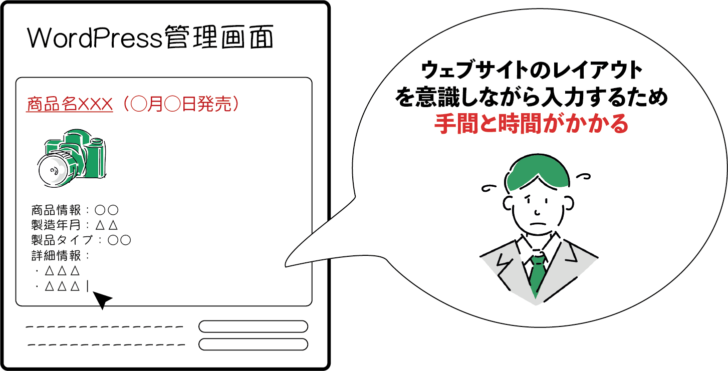 Therefore, we have developed our submission screens with the following innovations.
Create a dedicated input space for a specific section of every posted article.
We can listen to what each client wants to update and change the management screen and system to make it easier for them to update their content.

For example, when updating products handled by a company, it is possible to create a dedicated input space for information that must be entered (product size, model number, price, colour, etc.), so that the information can be reflected on the website in a beautifully designed and arranged format. 
In this way, we were able to create a website that is easier to update, reduce man-hours and achieve results in accordance with the company's requirements.
Summary
How was the experience?
It is considered a good idea to update your website frequently, but it is often thought that this cannot be done without specialist knowledge.
However, with an ingeniously designed website like this, anyone in the company can update it, making it possible to transmit information with as few man-hours as possible.
We listen to the requirements of each company and try to create a website that meets their objectives.
If you have any questions about the management screens or updating methods introduced in this article, or if you would like to discuss a free web diagnosis, please feel free to contact us using the form below.
Thank you for reading.